Professional workshops, self-driving cars and concerts - the Faculty celebrates its anniversary at the FIT Festival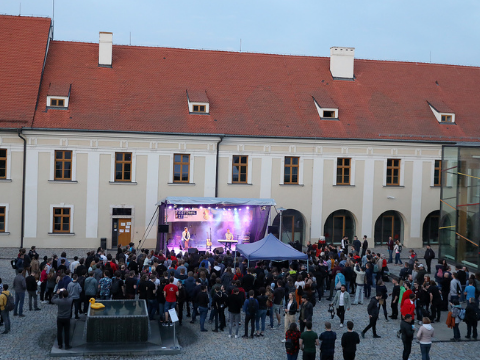 Professional workshops, self-driving cars, concerts and a bouncy castle - the Faculty celebrates its anniversary at the FIT Festival
The last Saturday of April saw the celebration of the 20th anniversary of the founding of the Faculty of Information Technology. The Faculty campus welcomed over 1,100 visitors. Beautiful sunny weather and a rich programme gave everyone a nice opportunity for meeting other people and enjoying the festival day.
The morning and early afternoon belonged to science and research: 24 IT workshops and the Excel@FIT student conference were held, where 33 projects were assessed this year. The visitors toured the laboratories and were inspired by Leoš Dvořák's lecture titled "Software Quo Vadis".
The courtyard at Building L was besieged by children playing on the bouncy castle, taking part in competitions and cheering on rabbits as they hopped over the obstacles. In the FabLab truck, they could 3D print a whistle and take a look at the technical gadgets on display.
The Students' Union organised many games and sports competitions and the results were impressive. For example, several participants in the roaring competition broke the 120-decibel threshold, which corresponds to the loudness of an average pneumatic drill.
In the afternoon, student bands from FIT followed by Michal Horák and Petr Čadek took the main stage, producing a great musical experience from the first song to the last.
The Faculty thanks all visitors for finding their way to our event, our partners for their support and everyone who participated in the preparation of the festival. It was a great success. Take a look at our photo gallery or watch the video that will take you through the festival day.